It is strange as to how
Samantha Akkineni
and
Naga Chaitanya
are tackling the buzz of their marriage having gone downhill. But before that, let's tell you that we had the rumour of this 'rocky' marriage much before the other sections of the media went black and white with it.
Over to the strange, err, bizarre way Samantha (she dropped her surname recently) and Naga Chaitanya addressed a simple question whether all was well in their marital life or not.
Would you believe it if we told you that on Day 1 (August 26, Thursday) when we at ETimes called Samantha, she said she was in a shoot and would call us back? However, before hanging up, she said a clear yes to our question if we could text her.
Soon after that, her phone was not reachable. Deliberate hiding? Obviously.
Day 2, the situation remained the same–but then when we called Samantha from another number, the call went through (which means we had been blocked) and the same voice of Day 1 spoke from the other end but saying that she was not Samatha Akkineni! And then, the same voice went on to give us gyaan that we hadn't texted Samantha in the right manner!
It is imperative for us here to reproduce what we had texted Samantha on August 26.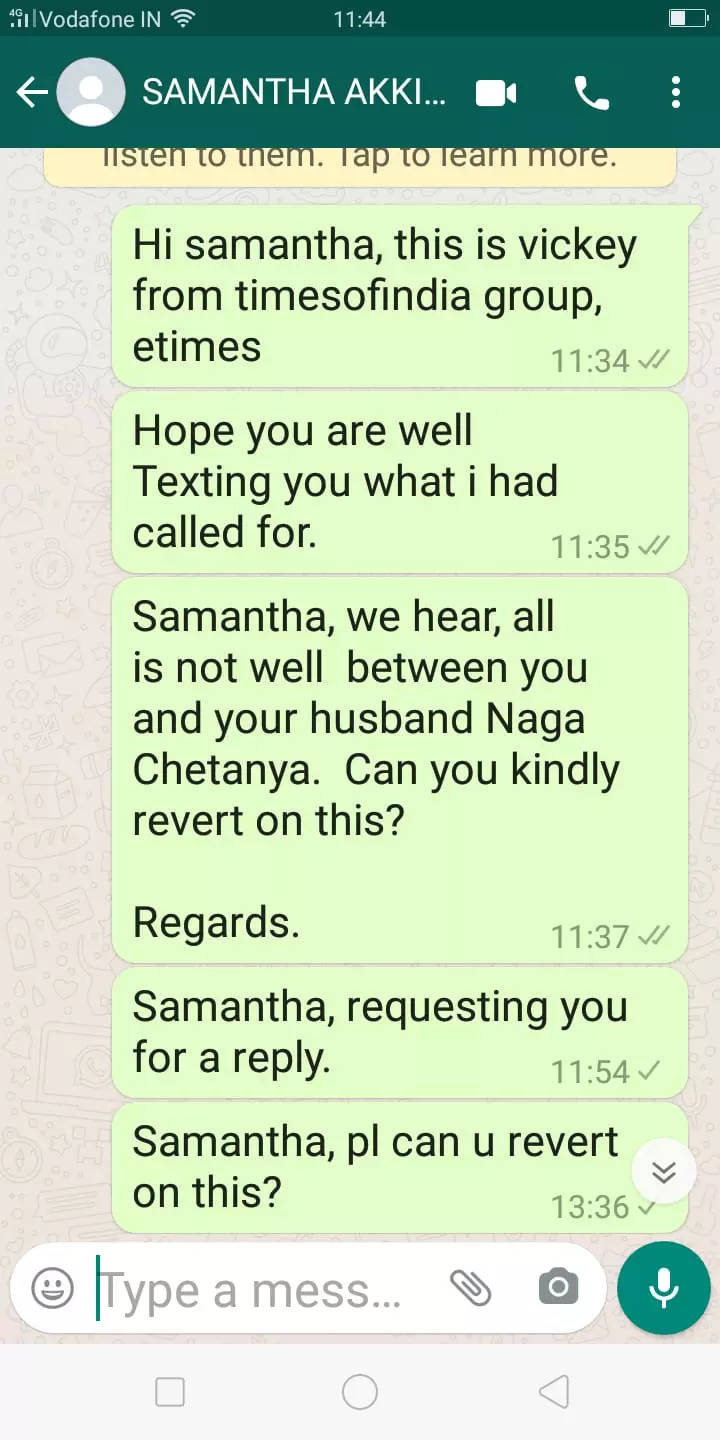 Well Samantha, if this is not the correct way, we wonder what is! Wonder how many would ask you if we can go ahead with the story saying that you were unavailable for comment?
Samantha also said a closing statement which was not audible and when we asked her if she could say that again, she had till then hung up. We hope she said 'it's not true'.
Interestingly, Naga Chaitanya and his team too were batting on a similar sort of wicket.
Naga Chaitanya's team man Mr Suresh, when contacted, told ETimes that the news is untrue but in a few seconds changed it to 'I don't know'! Excusing himself that he was being disturbed, he subsequently went off the radar.
Another team member of Naga Chaitanya, Mr Raju, who is also a part of Chaitanya's team, came across as a carbon copy of Mr Suresh. He said, "The news is not correct," and then in a few seconds said that he actually does not know! However, Mr Raju added, "Discussing this with the artiste (Naga Chaitanya) will be bad. This is not a thing to discuss."
True or not, Samantha and Naga Chaitanya must understand that either way, it won't be long before the truth is out with details.
Meanwhile, honestly, we hope that the rumours are preposterous- but if true, the rift is just a lovers' tiff.